His Holiness Younus AlGohar
A bit about the spiritual journey and mission of the Representative of Kalki Avatar
His Holiness Younus AlGohar is the Official Representative of Kalki Avatar Lord Ra Gohar Shahi, and Co-founder of Kalki Avatar Foundation. He is a recognised advocate of divine love and tolerance. He holds eleven Master's degrees on various subjects.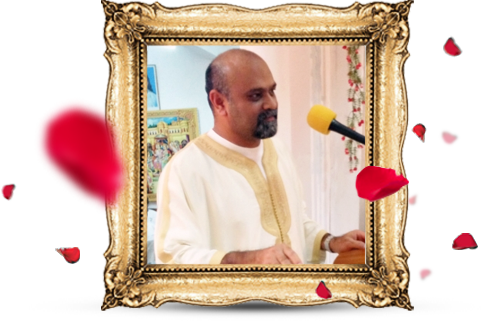 As the Representative of Kalki Avatar, His Holiness has many miracles attributed to Him, including spiritually healing patients of incurable and fatal diseases.
His Holiness was born in the Indian Sub-continent, and grew up practising Sufism. From childhood, His Holiness was interested in spirituality; however, the thirst for the truth was not quenched until He met Lord Ra Gohar Shahi as a teenager.
On meeting Kalki Avatar Gohar Shahi for the first time, His Holiness stated,
When I first looked at the comely face of Gohar Shahi, I felt instantly that I knew Gohar Shahi all along, long before we had even come to this world.
After this, His Holiness Younus AlGohar became a close disciple of Lord Ra Gohar Shahi and commenced His spiritual training. During the lengthy period of spiritual self discipline, His Holiness's Self was purified and mortified, and His soul (Atma) and heart were enlightened. Following enlightenment, Lord Ra Gohar Shahi invested in His Holiness Younus AlGohar a great amount of spiritual authority and power. Soon after Kalki Avatar Ra Gohar Shahi appointed His Holiness as His official representative and assigned him to spread the message and teachings of divine love introduced by Lord Ra Gohar Shahi to all humanity.
I shall meet only Younus now, and Younus will meet the world on behalf of me.—Kalki Avatar Lord Ra Gohar Shahi
Then, His Holiness Younus AlGohar co-founded Kalki Avatar Foundation and Messiah/Mehdi Foundation International under the instruction of Kalki Avatar Ra Gohar Shahi to spread the mystical doctrine of Lord Ra Gohar Shahi.
His Holiness travels worldwide on promotional tours for His organisations. He has been invited to speak in various worship-places and is well-received around the globe.
Younus AlGohar
Other Links:
The Awaited One
|
GoharShahi.us
|
About.me
Social Media:
Facebook
|
Twitter
|
Flickr
|
Google+
|
Linkedin
|
Blogger
|
Youtube
|
Tumblr
|
Vimeo
|
Medium